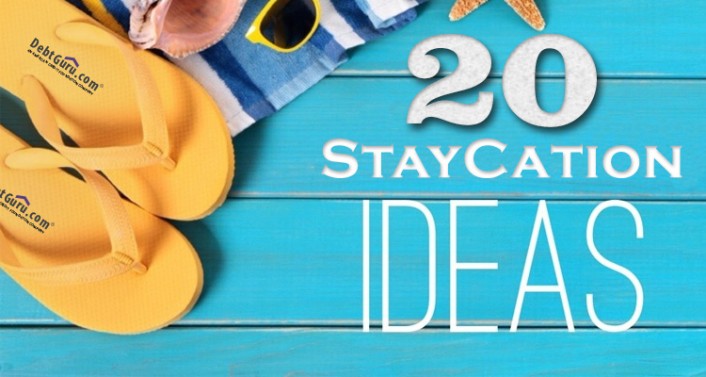 20 Fantastic Summer Staycation Ideas
Summer is here. The sun is out. The kids are out of school, and you've got plenty of vacation time saved up at work.
One thing you don't have? Money. Or, more specifically, the kind of extra money you need to take a traditional family summer vacation – and you have no interest in using your credit cards to finance a trip you can't afford. The good news? You don't have to go far or pay a lot to have fun this summer. Keep costs down and keep your budget in check by planning an awesome "staycation" instead.
Not sure where to start? Here are 20 summer staycation ideas:
Explore another city or town. Every city and small town has something unique to offer, whether it's unique shopping and dining options, cultural events, or outdoor activities. Pick a destination that you can get to in an hour or two, and be a tourist.
Go outside. Pack up the car and spend a day at a nearby lake, beach, or park.
Have a movie (or TV series) marathon. Kick back on the couch, make some popcorn, and binge-watch a favorite movie franchise or check out a season or two of a new TV series.
Go camping. Okay, so camping isn't technically "staying home" – but if you've got campgrounds nearby, a night or two of camping is a fun, affordable alternative to a traditional family vacation. Want to stick really close to home? Let the kids pitch a tent and "camp out" in the backyard.
Take a class. Ever wanted to learn to knit or draw? Dance? Weld? Make sushi or cook Indian food? Check out the adult education offerings at the local community college or rec center.
Enroll the kids in a day camp. Traditional sleep away camp can get pricy. But that doesn't mean that your kids have to spend the whole summer hanging around the house. Day camps are an affordable alternative. Chances are good that you can find one that matches your kids' interests, whether they're into science and math, music, drama, or sports.
Go on a picnic. Make some sandwiches or pick up your favorite takeout food and eat at a park. Bring a blanket, sunscreen, and a Frisbee. The kids will love it.
Go fishing. Another great activity if you've got kids. Grab a couple of inexpensive fishing poles and head to a nearby pond, lake, or river (just remember to get a fishing license, if you need one).
Read a book or two. Summer is the perfect time to sneak in some reading time.
Get your kids to read a book, too. Summer is also a great time to encourage your kids to read. Check out your local library to see if they have any fun summer reading programs.
Visit the zoo or the aquarium. Because who doesn't love animals? Zoos and aquariums are fun for all ages, and they're relatively inexpensive. And sure to check for deals and discounts – sometimes, you can pay less if you go on a weekday (and it'll be less crowded, too!).
See a movie. There's just something cool about experiencing a movie – especially a silly, flashy, big-budget summer movie – on the big screen (or, even better on a giant IMAX screen or in 3D). Yes, it's expensive (which is why I typically opt to stay home and catch whatever's on Netflix). But remember: you're on staycation. It's okay to splurge a little. Don't forget the popcorn!
Give Back and Volunteer! If you're like most folks, your day-to-day life is pretty hectic – which is why the slowed-down pace of summer is a great time to put in a few hours with your favorite charity or community organization.
Cook a fancy family dinner. Work together to plan a menu, shop for ingredients (bonus fun if you shop at a farmer's market!), and get cooking. Give everyone an age- and skill-appropriate job: Younger kids can wash veggies and measure ingredients, and older ones can chop, sauté, and bake. The grownups can supervise.
Do a DIY dinner. Pick something basic, like tacos, pizza, mac 'n cheese, or burgers – and then set up a "bar" with lots of toppings so everyone can mix and match to their heart's content. You can do the same thing with desserts, like ice cream sundaes or cupcakes.
Spend the day at a theme park. Disneyworld might not be in the budget this year, but most states are home to a couple of theme parks or waterparks. Check out this list of theme parks by state to see what options are near you.
Go to a fair or carnival. Depending on what part of the country you live in, your summer staycation might coincide with the state fair (many Midwestern states hold their fairs in July or August while the weather is still nice). If your state fair takes place in the fall, try doing a quick Google search to find out if there are any few smaller, local fairs or carnivals heading your way.
Take a tour. You might be surprised how many local businesses – from breweries and bakeries to manufacturing plants – offer behind-the-scenes tours. They're usually inexpensive (and sometimes you even get free samples!).
Have a pajama party. Stay in your PJ's all day and make breakfast for dinner. Couch forts and pillow fights are optional.
Plan a family game night. It's hard to beat game night. Get some snacks, and pick a game or two, and you've got a night of instant fun. Feel like something old-school? Grab a deck of cards and play a classic like Gin Rummy, or break out the Monopoly board. In the mood for something more high-tech? There's nothing wrong with a family video game night!
See? You don't have to go far from home or spend a lot of money to have a great time this summer. Pick a few of your favorites from this list and let the staycation fun start! And if your summer plans happen to include getting out of debt or getting your finances in order, you can add a Debt Guru consultation to your list of staycation activities. Just contact the Debt Guru team today for a free consultation.