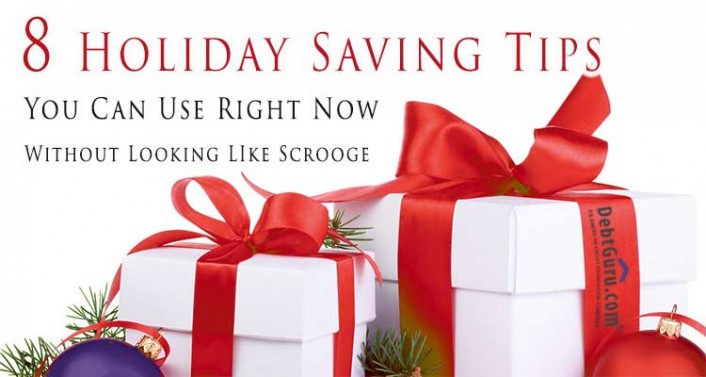 8 Tips to Save During the Holiday Season
8 Tips to Save During the Holiday Season
It's official: The holiday season is here.
There's a lot to love about that festive stretch of time between Thanksgiving and New Year's Day: The parties, the food, the over-the-top decorations, and the gift exchanges are all part of what makes this time of year so much fun.
But if you're not careful, all of that partying, eating, decorating, and gift giving can put a pretty substantial hole in your wallet. The holidays can be a challenging time if you're trying to stick to a budget or watch your spending.
So, how do you strike a balance? How do you get through the holidays without building up a substantial snowball of debt? How do you keep your seasonal spending in check – without looking like a Scrooge in the process?
Or, put another way:  Can you be festive and financially responsible?
The answer, of course, is yes. Here are just a few ways you can celebrate without blowing your budget:
Set a budget – for everything. Whether you're planning Thanksgiving dinner, shopping for gifts, or prepping for a party, make a budget first. Decide how much you can spend. Stick to that amount. If you want to make extra sure that you aren't tempted to overspend, leave your credit cards at home and take exactly the amount of cash you budgeted.
Take a pre-holiday inventory before you buy. Take a moment to check your stock of holiday staples. Do you need more wrapping paper or gift tags, or do you have enough left over from last year? Is it time to replace a burned-out string of lights? This is a quick and easy way to ensure that you only spend money on things you actually need.
Using plastic? Have a plan. Many folks choose to use credit cards for holiday spending, and that's not always a bad idea: Credit cards offer more fraud protection than debit cards, and many come with helpful extras like cash back or even discounts or rebates when you buy from certain retailers. And, there's nothing wrong with using credit cards to save a little money – as long as you're sure that you can (and will!) pay your balance in full at the end of the month. Remember, carrying a high-interest balance from month to month will quickly cancel out any savings or cash-back rewards you earn.
Have a big family? Curb the gift buying. Gift-centric get-togethers can be expensive – especially if you have a very large family. Instead of buying gifts for every member of your extended family, try a fun, budget-friendly alternative: Do a holiday cookie exchange instead, or have everyone bring one fun gift and have a "white elephant" exchange.
Do it yourself. Who says gifts have to be store-bought? If you're the crafty type, consider making this a DIY holiday: Surprise your friends and family with a hand-knitted scarf or a batch of your amazingly delicious made-from-scratch triple-chocolate-chip cookies. Not exactly a crafting or baking type? Try something simple, like putting a favorite photo in a frame or creating a carefully curated mix CD.
Keep the emphasis on giving – not receiving. With all of the great holiday sales and deals out there, you may be tempted to treat yourself a little. But if you're really trying to curb unnecessary spending and stick to a budget, you should resist the urge to splurge on yourself.
Look for coupons or promo codes. If you're doing any gift shopping online, do a quick google search for coupon codes before you hit the "Checkout" button – it's likely you'll find a few out there. Some online retailers will send you a one-time promo code if you sign up for their emails (you can always unsubscribe after the holidays).
Planning on shopping at a brick-and-mortar store? Check out their website before you leave the house – you may find coupons that you can print or send to your smartphone. Forgot to check the website? It never hurts to just ask, "Are there any coupons?" Many stores keep extra copies at the cash register, and most will give you the deal if you ask.
Don't get caught up in holiday-sale madness. Crazy Black Friday and Cyber Monday sales are as much a part of the season as pumpkin spice coffee and shopping mall Santas. And there's nothing wrong with waiting until Black Friday to purchase something that's already on your gift list. Where it gets dangerous, though, is when those super-low prices tempt you into unnecessary spending. It doesn't matter how cheap that flat screen TV or laptop is – if it's not on your gift list, you don't need to buy it. End of story.
And while we're talking about Black Friday, you should remember that some of those deeply discounted items are manufactured specifically for Black Friday. That low price may sound like a deal, but in reality, you may be getting a low-quality, stripped-down version of what you really wanted.
There you have it: Eight simple ways to keep your spending in check – without dampening your holiday spirits. All it takes is a little planning. Need more advice about debt, budgeting, or responsible credit card use? We're here for you. Contact the Debt Guru team today for a free debt consultation.
Happy holidays from the Debt Guru team!