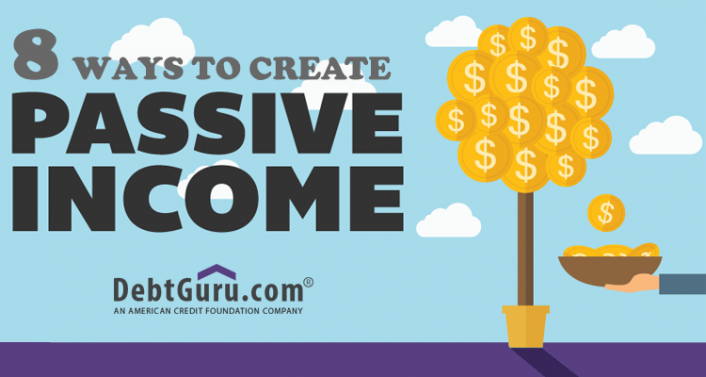 8 Ways to Generate Passive Income
Who doesn't want extra cash? I can't think of anyone who wouldn't be happy to bring home a little extra money every month. But side income usually means taking a side job of some kind – and not everyone has the kind of schedule that can accommodate a traditional part time gig.
That's where passive income comes in. As the name suggests, passive income allows you to earn money without really doing anything (or by doing very little). Passive income opportunities are flexible and don't require a specific time commitment or schedule constraints (although some opportunities do require a small amount of effort at the start – such as setting up an account or searching for a deal
Need a few ideas? Here are just a few ways that you can generate more passive (or near-passive) income:
Get a better savings account. When was the last time you shopped around for savings accounts? If it's been a while, consider spending an hour or two looking at your options. Are there any accounts that offer higher interest rates? Even a one- or two- percent increase can make a small difference over the long haul.
Consider a CD. CDs typically offer higher interest rates than savings accounts, which is good news if you're looking to get the most bang for your banking buck. The most important thing to keep in mind is that, unlike savings accounts, CDs require you to keep your money invested for a set amount of time (the time required can vary from a few months to a few years, depending on the type of CD) and if you withdraw your money early, you'll have to pay a penalty.
Make your car a rolling billboard. Some marketing companies specialize in finding everyday drivers who are willing to have their cars "wrapped" (fitted with advertisements for everything from burritos to car insurance to fitness centers and more) in exchange for a monthly payment. If you're willing to jump (or drive!) through a few hoops and talk to a few random people (most participants are required to act as "brand ambassadors" for the products they're advertising), it's not a bad gig.
Rent out your parking space/driveway. If your home happens to be a stone's throw from a stadium, convention center, festival site, or concert venue, you can make a few extra bucks offering paid event parking.
Shop via a rebate site. Websites like Swagbucks and eBates reward you for making purchases or visiting web pages via their sites. The details vary from site to site – some sites give you cash back while others pay you in gift cards or credits – and it's not going to make you a millionaire by any means. And this isn't 100% passive, technically speaking (you do have to create an account and make purchases online). But it is a nearly effortless way to make a few extra bucks making online purchases you were planning to make anyway.
Sell stuff on Ebay. So this one isn't 100% passive, either – but it's a fairly easy way to earn money. Typically it only takes a minute or two to create an Ebay listing, and unless an occasional trip to the post office is a deal-breaker for you, it's easy work that can potentially earn you a nice chunk of extra cash.
Cash-back credit cards. If you're using a credit card anyway (and you reallly should be – responsible credit use is essential for building a solid credit score), a card that gives you a percent of cash back from every purchase is a no-brainer. If you don't have a rewards card, and you use your credit card fairly regularly, it may be worth making a switch. Just remember that the key word here is responsible – a cash award isn't worth a lifetime of credit card debt.
Peer-to-peer lending groups. A newer (and slightly riskier) way to earn passive income, peer-to-peer lending groups provide loans to people who either don't qualify for or don't want to pursue traditional bank loans – and they usually get better interest rates than they'd get from a traditional loan. Peer-to-peer lending groups provide investors with an opportunity to earn interest on their investment. As an investor, you can control just about every aspect of your investment – from the amount of money you put in to the types of borrowers you choose to work with to the amount of risk you are willing to take.
Hope these tips help – a passive income stream can help you pay down credit card debt faster without putting too much of a strain on your budget. And remember, you can always reach out to Debt Guru for more advice about money, budgeting, and credit cards. Contact the Debt Guru team today for a free debt relief consultation.
Happy holidays from the Debt Guru team!!