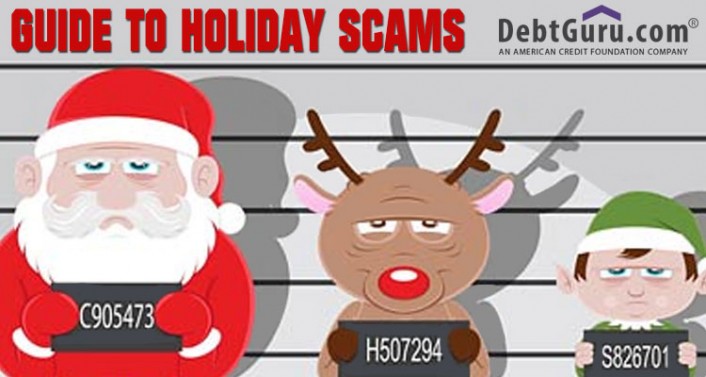 Holiday Scams and How to Avoid Them
The holidays are a time filled with fun, friends, and family gatherings. A time for shopping and gift exchanges. A time of joy, cheer, good food, and new beginnings. Unfortunately, they are also a time when scammers, thieves, and fraudsters come out of the woodwork in search of ways to steal your gifts, hard-earned money, or personal information.
The good news, though, is that with a little awareness and by taking a few precautions, you can protect yourself and your family from these would-be Grinches. Here are a few things to watch out for this season:
Seasonal job scams. If you're looking for short-term holiday side hustle, beware of potential employers who advertise too-good-to-be-true wages or require you to pay a fee for "training" or "supplies." Your best bet if you're simply looking for a little extra holiday cash: Stick to legit part-time jobs at local, brick-and-mortar stores.
Fake products. 'Tis the season for knockoff iPads, designer-imposter handbags, and cheap imitations of the year's hottest toys. To avoid getting duped, buy your holiday gifts from reputable retailers and websites. Don't fall for rock-bottom prices on in-demand, high-priced items. If someone is asking $50 for an iPad, it's not an iPad.
Fake charities. Feel like giving back this season? Before you donate to a charity – especially a charity that's new or that you're not familiar with – it's a good idea to do a little research first to make sure it's legit. Check out Charity Navigator or the Better Business Bureau's org site to make sure your money will go to someone who really needs it.
Package theft. Holiday packages are low-hanging fruit for opportunistic thieves, who spend November and December cruising neighborhoods in search of packages left unattended on doorsteps. You can thwart their efforts by scheduling deliveries for a time you know someone will be home, or by sending all of your packages to your office rather than your home.
Credit card skimming. Skimming isn't exactly a seasonal problem, but it's a good idea to be extra careful during the holidays. Since people are doing more traveling and shopping, thieves are more likely to step up their skimming game, placing more devices at high-traffic locations like gas stations and ATMs — especially ATMs located in or near shopping centers. This is good to keep in mind before you swipe your card (for more information about skimming devices, check out this article).
Holiday phishing scams. Like credit card skimming, email phishing is a year-round concern – but you should be especially alert during the holidays, when your inbox is likely filling up with receipts, order confirmations, tracking numbers, and seasonal greetings from random relatives. Don't open attachments from any senders you aren't 100% sure about, and don't provide any personal information (like your name, address, billing info, etc.) via email.
Old-fashioned pickpockets. The busy holiday shopping is the most wonderful time of year for thieves who prefer old-school pickpocketing instead of skimming and fishing. If you plan to hit the shopping malls or big-box stores this year, do yourself a favor and take some basic precautions: If you carry a wallet, put it in your front pocket rather than your back. If you carry a purse, carry it across your body (and make sure it's closed). Other things you can do: Take only

one

credit card (leave the extras at home) and only take as much cash as you need. It's also wise to avoid leaving packages or shopping bags in your car, where they might be an easy target.
And remember, you can always reach out to Debt Guru for more advice about money, budgeting, and credit cards. Contact the Debt Guru team today for a free debt relief consultation.
Happy holidays from the Debt Guru team!!