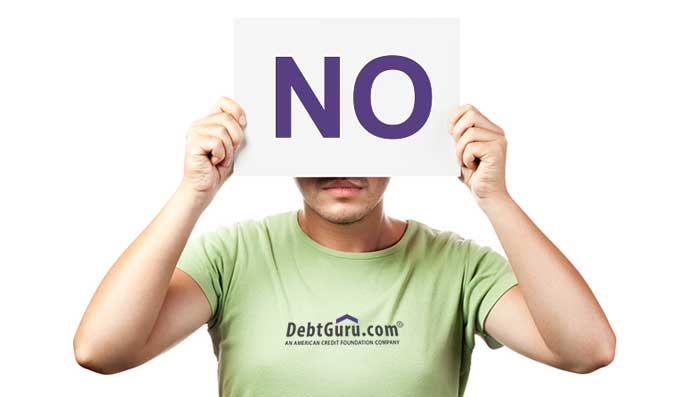 Just Say "No" to These Credit Card Offers
If you're a regular reader of this blog, you already know that I'm a huge proponent of responsible credit card use:  When you avoid overspending and pay your balance in full every month, a credit card is a useful tool that can help you build good credit and/or repair not-so-good credit.  And when you've got good credit, you have an easier time getting approved for things a car loan or a mortgage – and you'll get the best interest rates, too!
That's not to say that every credit card is created equally, or that you should accept every random credit card offer that you receive in the mail.  When it comes to credit cards, there are a lot of options out there, and some are better than others.  If you're in the market for a new card, it's important to know when a credit card simply isn't worth it.
Need a few guidelines?  Not sure if an offer is worth it?  Here are a few cards you should skip:
Retailer-specific credit cards. Credit cards from department or big-box stores are almost never a good option.  They typically reel you in with a big discount on your first purchase – which can be tempting if you're buying something big like a mattress or a refrigerator.  Sure, 20% off your purchase might seem like a good deal, but it's important to remember that retailer credit cards have a lot of disadvantages: For one thing, store cards usually come with much smaller lines of credit compared to regular credit cards (think a few hundred dollars vs. a few thousand) – and one large purchase on a card with a low limit can hurt your credit utilization ratio.  Store cards also tend to have higher APRs than regular cards.  Of course, if you pay your balance off in full every month, you shouldn't have to worry about your APR that much – but in the event that you do carry a small balance, why pay more?
Cards with very low credit limits. One of the best reasons to get a new credit card is to increase your ratio of available credit to credit used.  The more unused available credit you have, the better you'll look in the eyes of potential lenders.  If you're considering a new credit card that only ups your available credit by a few hundred dollars, you're really not getting the most out of it.  Keep looking for a card with a higher limit.
Cards with "bait-and-switch" interest rates. It's a pretty common tactic:  Credit card companies will woo you with an ultra-low introductory APR that sounds too good to be true, only to replace it with a much higher APR in six months or a year. In the long run, it's much better to look for a card that starts out with a slightly higher, fixed APR.  Again, if you pay your card on time every month, this shouldn't matter – but again, why get stuck with a high APR when there are plenty of alternatives out there?
Cards with confusing or unclear policies and rules. Read the fine print on every credit offer you receive. Make sure you understand the company's policies on things like grace periods, late payments, disputes, and balance transfers.  If anything is unclear, call and ask questions.  Read reviews from financial blogs and from other card users.  If you have any doubts or if you find anything that doesn't sound great, you should keep shopping around.
High-end cards with high-end price tags. If you've got very good or excellent credit, you may be receiving offers for "elite" cards that come with fancy-sounding privileges like free, members-only airport lounges or no-fee foreign transactions.  But all of that fanciness can come with a hefty price tag:  Some of these cards come with annual fees of several hundred dollars!
Predatory cards aimed at folks with bad credit. Ridiculous fees aren't limited to folks with the best credit:  If you're trying to rebuild less-than-stellar credit, you could be looking at offers from companies that charge ridiculously high interest rates, plus high annual fees and monthly service fees.  (In my opinion, if you can't get a credit card without paying an arm and a leg, consider applying for a secured card as a first step – you can learn more about secured cards in this post.)
Cards that don't give you anything in return. Aside from helping you build credit, one of the best things about responsible credit card use is that most credit cards offer some kind of incentive in the form of rewards points, airline miles, or cash-back offers.  Look for a card that's a good match for you: If you love to travel, you may want to opt for airline miles or even a hotel rewards program.  More of a homebody? Consider a card that gives you cash back on gas and grocery purchases.  Whatever you do, though, don't take a card that doesn't offer some form of reward.
Of course, there's no such thing as a perfect credit card – and no card is worth the cost of carrying a high amount of debt.  Remember that no matter which card you choose, you should use it responsibly:  Pay your balance in full every month.  Don't spend more than you can afford.  That way, you can get all of the benefits of a credit card – with none of the headaches that come with debt!