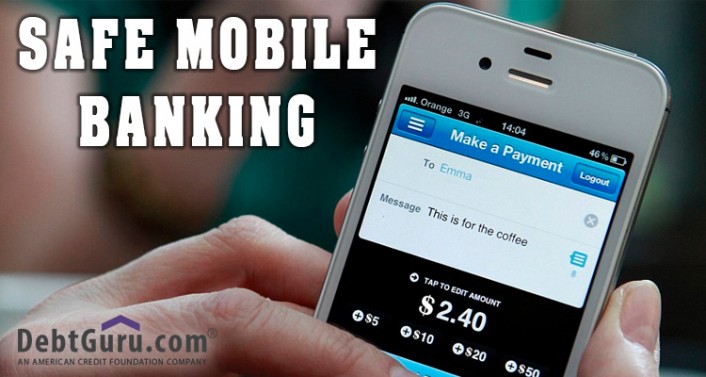 Mobile Banking Safety Tips
I've been on kind of a safety kick this month. I started October with a few tips for safe ATM withdrawals, so I figured I'd continue this month with a few tips for safe deposits – specifically mobile deposits. As smartphones have become more common, mobile banking has become a popular choice. After all, why would you want to drive to a cash machine or stand in line at the bank when you can do nearly all of your banking from your phone or tablet?
Personally, I think one of the coolest things about mobile banking is mobile deposits, which allow you to deposit a check without a trip to the bank or the ATM: You simply sign your check, take a picture of the front and back, fill in a number or two, and you're done! Your money is deposited, and you didn't even have to leave the house!
In general, mobile banking is safe and secure, and many of the standard online banking safety tips (picking a strong password, changing it regularly, etc.) still apply – but mobile banking is a bit different than banking from your home computer, and there are a few unique considerations and precautions to take if you're using your bank's mobile deposit option, from keeping your finances safe to ensuring a successful, error-free mobile deposit:
Take a good photo. One potentially frustrating (and time-consuming) part of a mobile deposit is capturing a clear image of your check. A few ways to get it right the first time: Put the check on a dark, non-reflective background, and make sure there's plenty of light. Before you take the photo, make sure you've got your entire check in the frame.
Read up on your bank's mobile deposit policies. A few things to find out: How soon will your funds will be available after you make a mobile deposit (many banks place a hold on all or part of the amount you deposit)? Is there a limit to the amount of money or the number of checks you can deposit per month? What is the cutoff time for processing deposits? Understanding these policies can help prevent costly overdrafts or transaction fees.
Keep your check for a while. Don't get rid of your check until you're sure the transaction went through successfully. And when it is time to dispose of your check, make sure you shred it.
Enable your screen lock – and choose a good PIN. A screen lock will make it harder for someone else to get into your device and access your banking information. And make sure your PIN or password isn't too simple or obvious. Avoid "1234" and don't use your birthday or the last four numbers of your Social Security number or your phone number.
Don't store passwords. Most mobile banking apps give you the option to store your password. Don't. A stored password can make it easy for others to access your account. It only takes a few seconds to enter your password every time you log on to your mobile banking app.
Don't use a public or unsecured network. The best place to make a mobile deposit is at home, using your private, password-protected internet connection. Avoid mobile banking in coffee shops, stores, restaurants, hotels, or anywhere else with a shared network.
Make sure your banking app is legit. You'll need your bank's mobile app if you want to make mobile deposits – but beware of fake apps disguised as the real thing. To make sure you're getting the real deal, download the app directly from your bank's website.
Keep your app up-to-date. An outdated app may be less secure – and more vulnerable to scammers, hackers, and ID thieves – than the latest version. Check for updates regularly and make sure you're using the most current app available.
Tell your bank if you lose your phone or tablet. If you use a banking app, it's very important to notify the bank immediately if you lose your mobile device. That way, they can watch out for suspicious activity.
Here's to safe mobile banking all year round! And remember, you can always reach out to Debt Guru for more advice about money, budgeting, and credit cards. Contact the Debt Guru team today for a free debt relief consultation.