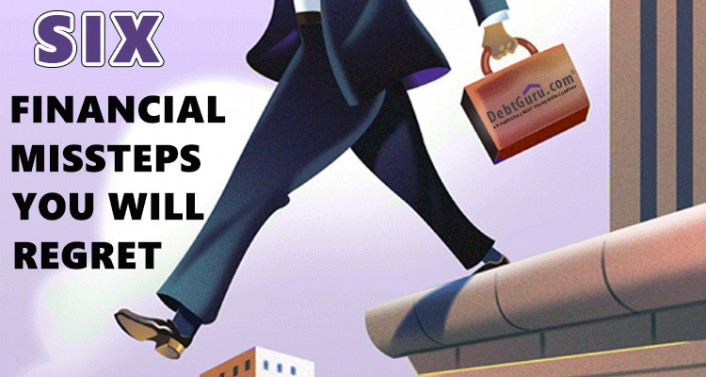 6 Financial Missteps You'll Regret
If you're like most people, you probably have a regret or two. It's only natural to look back and think, "If only I'd done XX instead of YY," or "I wish I'd known about YY before I decided ZZ."
Hindsight, as they say, is 20/20. And everyone makes mistakes. But some mistakes are costlier than others – literally. For example, the financial decisions you make today can affect your life for years to come. Want to look forward to a future that's free of financial regrets? Here are some common missteps to avoid:
Not budgeting. It's near-impossible to get a handle on your finances or reach your financial goals if you don't have a budget. It doesn't matter what kind of a budget you have, either – if you're a high-tech type, you might prefer an online option like Mint.com, or you might like keeping track of your expenses with an Excel spreadsheet. More of a pencil-and-paper person? There's nothing wrong with a handwritten budget. Choose whatever you're comfortable with – the important thing is that you're keeping track of your finances.
Only making minimum credit card payments. Getting out of debt is tough, but it's even tougher if you're only making the minimum monthly payments on your credit card. Not only will it take years to pay off, but it will also cost you anywhere from a few hundred to a few thousand dollars extra in interest payments, to boot. My advice? Pay as much as you can each month until the debt is gone. And stop using your card or your balance will never shrink.
Not thinking about retirement. It might seem a little premature to start planning for your retirement – especially if you're in the early part of your career. But the truth is that it's never too early to think about the finish line. The sooner you start planning and saving, the better off you'll be later. Your future (retired) self will thank you.
Dipping into your 401K. There are many good reasons to leave your 401K funds alone. For starters, your above-mentioned future self will appreciate the extra funds when retirement rolls around. But that's not the only reason. There are taxes to consider (you'll pay taxes on anything you take out early). There's also the loss of interest earnings (you won't earn interest on any funds you take out). Another huge drawback? If you leave your job or are laid off, you'll have to pay back the amount you withdrew.
I know that it can be tempting, but I'd advise against this unless you are truly dealing with a life-or-death situation.
Not having an emergency fund. A lack of emergency cash is exactly how folks end up making not-so-great financial decisions like running up a high credit card balance or emptying their 401Ks. I've said it before, and I'll say it again (and again, and again!): Everyone needs an emergency fund. Ideally, you should have enough cash to cover a couple of months of living expenses or a major emergency like a critical car or home repair. If you don't have an emergency fund, you should start saving – even if you can only afford to put away a small amount each paycheck.
Ignoring your credit (and your credit score). Whether you've already got near-perfect credit or you're struggling to establish a credit history for the first time, it's critical that you stay on top of your credit and watch for evidence of things like theft, fraud, or even honest mistakes on your credit report. This means doing things like reading your credit card statements each month and taking advantage of your free annual credit report.
Another thing you won't regret? Getting great debt advice and support for your financial goals. If you've got questions about debt, budgeting, or responsible credit cards use, you can contact the Debt Guru team today for a free consultation.