Bill Payment Strategies for Procrastinators
From car notes to credit cards, monthly bills can be pretty overwhelming – and unfortunately, curling up in a fetal position and hoping our bills disappear doesn't work too well. It can be a daunting task to sort out your monthly bills… and even more terrifying to pay them. This is likely why so many of us put off paying them until the 11th hour.
But because creditors report your monthly payments to the three major credit bureaus, the procrastination of bill paying can lead to late fees and penalties, quickly taking a toll on your credit score.
We have come up with a few simple bill payment strategies for procrastinators.
Bundle Your Services
Bundling your services not only saves money, it means you will have one less bill to think about each month.
Insurance is an excellent service to bundle. Most of us require auto and home insurance policies, making bundling a great idea. Internet Service Providers (ISPs) generally offer bundle savings for customers who subscribe to their internet access, cable tv, and phone services. The more you bundle, the fewer bills you have to think about.
List All of Your Bills
Identifying all of your creditors and providers and due dates is the best way to get your bills in order. It's impossible to pay your bills on time if you don't know who you owe, how much you owe, or when your payment is due.
It's easy to miss monthly bills if you have a plethora of creditors and providers. When you're focusing on your major debts like mortgage, car payment, and utilities, you're prone to overlook smaller bills like credit cards and streaming services.
To make a complete list of creditors and providers:
Gather your last bank statement and credit card statements.
List the creditor or service provider, due date, minimum monthly payment, and total balance.
Create two lists, one list of automatic debits and one list of payments you must make manually.
Bonus: by writing out a list of all your financial obligations, you'll start to notice subscriptions or services you don't use. Canceling these services is an easy way to save some dinero!
Enroll in Autopay
Most services offer autopay. Many companies – like cell phone carriers and car insurers – even offer a discount when customers take advantage of autopay.
If possible, align your due dates a day or two after payday. If you're paid bimonthly, consider this strategy: Pay your mortgage (or other major monthly expense) with one paycheck, and schedule the rest of your bills for your second monthly paycheck to balance your monthly pay.
Credit cards companies typically auto-collect the minimum due when set up through autopay. However, making larger payments will help you reduce your debt more quickly and improve your credit score. Speak to your credit card company to set your automatic payment to collect a larger amount.
Depending upon your available credit, it may be wiser to have autopay come out of your checking account versus a credit card. Credit scoring models look at your overall credit usage. Experts recommend keeping your credit utilization below 30% – although some suggest that under 10% helps achieve an even better credit score.
Use a Calendar or Reminder App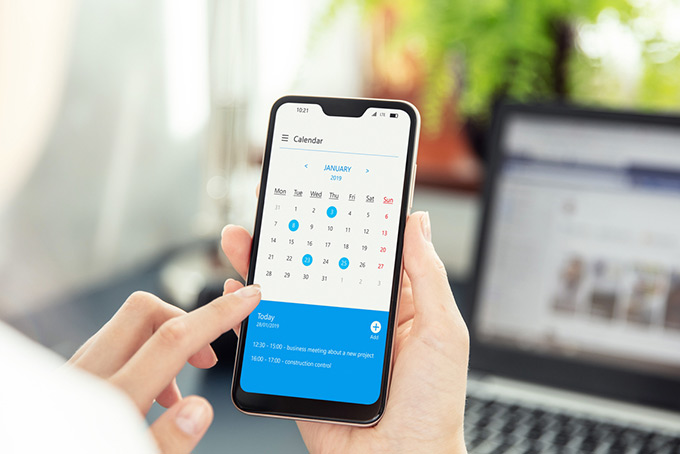 Whether you pay bills manually or use autopay, everyone can use a friendly reminder.
Creating calendar reminders yourself may work. But sometimes you'll forget to set those reminders. Another approach is using an app to send you the reminder you need. Apps like Prism automatically pull bill due dates from your statements onto a calendar. All you have to do is decide what account you will make payments from. And the best part is Prism (and most reminder apps) are free!
Paying your bills on time will save you money and raise your credit score. There's no "right" approach or one-size-fits-all solution to breaking your procrastination habit. The key is finding a sustainable method that works best for you. It may seem like a great deal of effort, but once you find "your" system, it makes your financial life easier. Contact DebtGuru.com today to speak with a knowledgeable team member who can help you find the strategy to fit your unique situation.