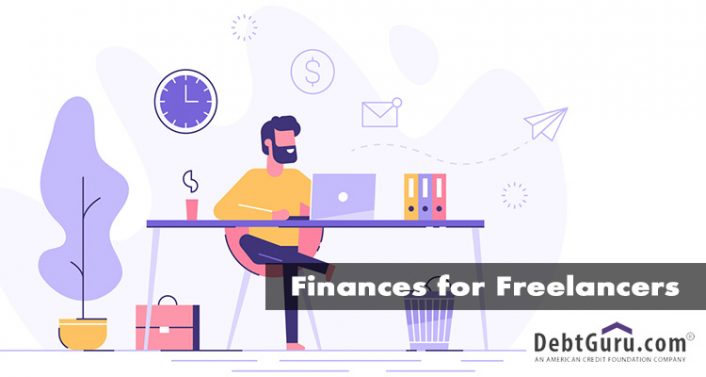 7 Tips For Managing an Unpredictable Income
Freelancing is great: You get to set your own hours and be your own boss. You're not chained to a desk from nine to five. No morning commute. No coworker drama. If you're an independent type who likes to do your own thing, a freelancing or contract gig is probably as close to perfect as you can get.
Of course, freelancing or contract work also means that you forego some of the nicer things that can come from working a traditional job, like employer-provided health insurance, a retirement plan, and predictable paychecks. As a freelancer, you work when there's work. You might be frantically busy for six months, and then you might spend two months waiting for the phone to ring.
If you want to make it as a freelancer or a contractor, one of the first things you'll need to figure out is how to structure your finances to handle the ups and downs of a flexible, unpredictable career.
Not sure where to start? Check our list of top money-saving and budgeting tips for freelancers and contractors:
Start an emergency fund. While an emergency fund is a good idea for everyone, regardless of their job, it's especially important for people who have inconsistent income from month to month. An emergency fund can be a lifesaver if you go a few weeks – or even months – with little to no work. An emergency fund can also help you repair or replace much-needed gear and equipment (think laptops, cameras, tools, etc.).
Don't forget about taxes. When you work for a company, you receive a paycheck with taxes already taken out. This is not the case when you're a freelancer. Instead, you'll be responsible for paying your taxes at the end of the year. Most experts recommend setting aside around 20 to 30 percent of all income and earmarking it for income taxes.
Don't forget about health insurance, either. As a freelancer, you'll be responsible for paying for your own health insurance (unless, of course, you're covered under your spouse's insurance plan). It can be expensive, but the expense is worth the peace of mind. And there are lots of options at a variety of price points. Set aside a few hours to learn more about the types of plans out there and which ones make the most financial sense for you, depending on things like your age, your health, and other factors.
Use the past to predict the future. Yes, freelancing and contract work makes it hard to set a "traditional" budget. But if you've been freelancing for a while, you can use your income and expenses from previous years to estimate your future income. It might not be exact, but it should be enough to help you see patterns in your income and create a very high-level budget.

Save extra money. It's tempting to splurge if you happen to land an especially high-paying contract or have an exceptionally busy month – but you'll be much better off if you stash the extra cash in your emergency fund or your savings account. The extra will come in handy if you experience a few slower months.
Don't treat credit cards like a source of income. High-interest debt is hard enough to manage when you have a predictable income, but it's even more challenging when you're a freelancer or a contractor. After all, your income may vary greatly from month to month, but your credit card payments will stay the same no matter what.
Revisit your prices, and adjust them if needed. Setting your own rates for your products and services can be difficult. It's not easy to place a value on your time, and it can take work getting it right. So, it makes sense if you feel hesitant to change what's working for you. On the other hand, though, if it's been a while since you've set your professional rates, consider doing a little research. Times changes, rates change, and if you're not keeping up, you're selling yourself short.
Need more advice about saving, spending, or paying down debt? Whether you're a freelancer or a nine-to-five office worker, we can help you get your finances back on track. The friendly team at DebtGuru.com is always happy to help!