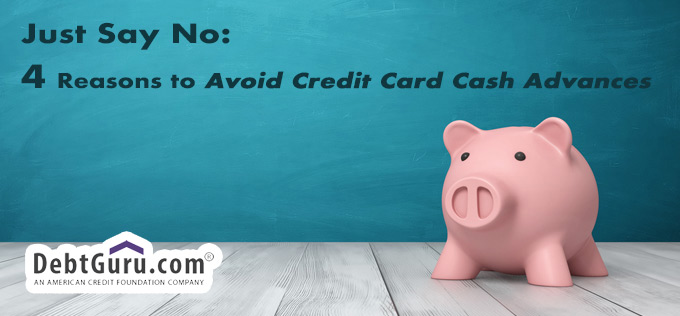 Just Say No: 4 Reasons to Avoid Credit Card Cash Advances
If you're in a tight financial spot, a credit card cash advance can seem like an easy way out: This quick, short term loan can give you access to anywhere from a few hundred to a few thousand dollars. But that cash comes with some major strings attached — deal-breakers that can hurt your credit, drain your bank account, and leave you financially worse off than you were before.
Here are four reasons that you should avoid credit card cash advances like the plague:
The transaction comes with exorbitant interest rates. If you thought interest rates on credit card purchases were high, then you might want to cover your eyes for this next part: Credit card cash advance interest rates are typically much higher than those attached to purchases. Though the rates are unique to each credit card, a 20-35 percent interest rate isn't unheard of — in fact, it's pretty much the norm.
Fees, fees and more fees. If the sky-high interest rates I just mentioned didn't make your head explode, the additional service fees you'll pay on the cash withdrawal might just finish the job. When you take out a cash advance, some cards will charge a fee equal to a percentage of your withdrawal, upwards of 5 percent. Others will simply charge a flat fee, usually between $5 and $10. But wait, there's more! If you use an ATM to collect your cash, you're likely to be hit with a fee from your bank, usually between $2 and $5, and/or the owner of the ATM.
Cash advances don't come with a grace period. Typically credit card lenders offer a grace period equal to a full billing cycle before they tack on interest charges for purchases made in the month preceding. Not so with cash advances. The interest starts mounting as soon as the transaction posts to your account. This means you should repay the money as soon as possible to minimize the already outrageous finance charges that come with easy money.
Cash advances can hurt your credit score. Yes, you read that right! Your lender is likely monitoring your cash advance activity and may up your rates if they observe what they consider risky behavior. This could be recurring cash advances, or advances made around the same time each month, signaling a problem paying certain recurring bills. They might even notice if you take out an advance around the time your minimum payment is due to them. If so, they could very well deem you a credit risk, which can have a negative effect on your credit score.
But what should you do if you need cash — fast? Depending on your precise situation, you may have a few alternatives available: Consider a personal loan from the bank, which will likely come with lower interest rates. Borrow from a family member. Consider taking a second job or selling some unwanted items on Ebay or Craigslist.
And here's a final thought: Everyone ends up in a tight financial spot now and then, but if you continue to find yourself short on cash, it's time to sit down and evaluate your budget. There may be an underlying reason that you're having trouble making ends meet. And remember, if you need assistance or advice for budgeting, saving, or getting out of debt, the team at
Debtguru.com can help.