Cheapest Ways to Do Online Grocery Shopping
According to a Gallup Poll from August 2019, only 2 out of 10 American adults reported regularly doing their weekly grocery shopping online. Since then, due to necessity, many more of us are looking for alternative ways to access food and other basic needs by utilizing these services – but likely suffering the sticker shock of marked-up prices and extra fees that go along with the convenience.
If you are new to online grocery shopping and trying to navigate new processes for brand selection and value shopping, we are here to help. These five money-saving tips will show you how to stay home and save money at the same time.

Create a Coupon Inbox
In general, paper coupons do not work for online shopping. However, many stores and delivery companies email coupons, promo codes, and even the store's weekly ads (containing digital coupons) directly to their users. To ensure that these money-saving codes do not go unused because they get deleted, overlooked, lost, or forgotten, store them all together in one convenient inbox. Think of it much like you would an accordion folder for paper coupons, but in the digital age. When you are shopping, you can quickly scan for the ones you need and apply upon checkout.
Take Advantage of First Time User Discounts
Store loyalty does not necessarily pay off for online shoppers. In fact, many stores offer a one-time discount for first time users, so you can actually benefit from virtually shopping around. These discounts can be significant, but they are only valid the first time you shop at that particular store (or chain of stores) online. If you live in a city where you have a large number of different options, you could easily spend several weeks – or even months – shopping around town at a discount.
Go Lightly on Brand Loyalty
Brand choices are sometimes more limited for the online customer than what is available in store, so remember to compare prices for the available online items. Brand loyalty rarely benefits the consumer, and store brands are often comparative in quality while being competitive in price.
Avoid Delivery Fees (if possible)
Most stores and delivery services charge a fee for delivery, but sometimes they will waive the fee. First time user specials and promo codes are offered from time to time, and it never hurts to simply ask for the fee to be waived.

Some delivery services offer a subscription, paid annually or monthly, and this can be a money-saving option if you have groceries delivered often. Be sure to research different subscription services, and do the math to see if it makes sense for you.

One sure way to avoid a delivery fee is to do your own curbside pick-up. You still complete the full purchase online, then choose your pick-up time from the slots available. When you arrive at the designated curbside pick-up location, a store associate brings your groceries out and loads them into your car.
Avoid Busy Time Pricing
Be aware that some stores and services will charge online shoppers an added fee (for both pick-up and delivery) during its busiest hours. Unless you absolutely cannot avoid these times, just choose a different hour or day and save yourself the upcharge.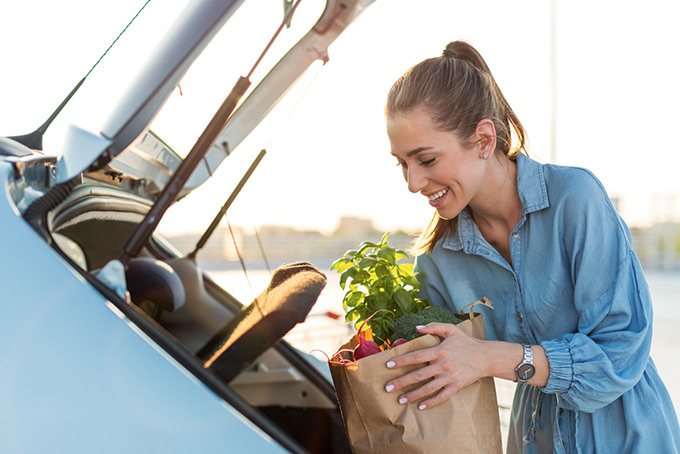 Whether you choose to do your grocery shopping online for health reasons, for convenience, or simply because you want to outsource a time-consuming task, you don't have to pay a premium for it. There are ways to take advantage of this type of service while still keeping an eye on your pocketbook. In this case, you might say you CAN have your cake and eat it too.
If you are doing all you can and still find that you are having trouble making ends meet, contact DebtGuru.com today. One of our experienced team members is ready to talk to you. We can discuss ways to help you regain your financial footing and get back on top of it all.