What To Do if You Can't Pay Your Mortgage
Paying bills is stressful enough, but if you come to the end of your checkbook balance and discover that you don't have enough to cover your mortgage, that stress goes up exponentially. But before you panic, you should know that you have options.
First, Make Contact With Your Loan Servicer
Before deciding how to move forward, your first step is to contact your mortgage loan servicer. Because loans are often sold to other lenders, it might not be the servicer that first agreed to grant you the mortgage.
The servicer will have questions for you, and you should prepare your answers before speaking with them. Some of the things they will ask you are:
What is your reason for not being able to make the payment?
Are the financial difficulties you are experiencing short-term or long-term?
What other expenses do you have?
What are your sources of income?
What other assets do you have (such as cash in the bank)?
Whether or not you are a service member, and if so, if you have received change of station orders.
Your mortgage servicer likely does not want to foreclose on your home and will look at your circumstances to determine if they can offer other options. That's why it's important to be honest with them during the call. You'll probably be asked to fill out a mortgage assistance application to get further details. Based on that, they will determine your options.
6 Potential Options When You Can't Pay Your Mortgage
If you find yourself unable to pay your mortgage, here are six options you may have. For most of these options, remember that you'll need to work with your mortgage loan servicer.
1. Refinance Your Loan
If you have good credit and some equity on your home, taking out a refinance loan could be a way to solve your problem. With a refinance loan, you take out a new loan on the balance you have on your mortgage and roll it over into a new loan. If interest rates have come down, you may even get one that's lower than your current rate. Combine that with the fact that the loan amount will be lower than your original loan (because you've paid off a portion of it), and the payment will be lower.
2. Loan Modification
Another option you may have if you are experiencing difficulty making your mortgage payment is speaking to your loan servicer about a loan modification. You will have to qualify for this service just as you would when applying for a mortgage, but the benefits could be the answer to your problem.
Loan modifications involve things like extending the number of years on your loan, reducing your interest rate, and reducing the principal balance of your loan. All of these modifications will result in lower mortgage payments for you.
3. Repayment Plan
If your inability to make your mortgage payment stemmed from a temporary issue, a repayment plan could be the right solution for you. It works like this: The lender will create a plan that helps you make up the missed payments. Each lender works differently, so be sure to ask about the details of their proposed plan. Be sure to think carefully about whether or not you can realistically make the additional monthly payments.
4. Forbearance
The CARES Act allows people with a government-backed mortgage to request a 180-day forbearance on their mortgage. In other words, they can go without having to make their mortgage payments for 180 days. And at the end of that period, they can request a 180-day extension.
But eventually, those payments will have to be made up. They can be dealt with as a loan modification, or the servicer can create a loan repayment plan at the end of the forbearance period. If your mortgage loan isn't a government-backed loan such as a Fannie May, VA, or FHA loan, your private lender may offer you a forbearance – you will just need to call and request it.
5. Sell Your Home
If you've missed a lot of payments and are at risk of losing your home to foreclosure, you could sell your home to prevent this. In today's market, you can likely sell your home for more than you owe on it and use the profit as either a down payment on a new home or to pay off some debt.
If you are "upside down" with your home's mortgage, meaning you owe more than it's worth, you could ask your lender to conduct a short sale. This means you sell your home for what it's worth, regardless of how much you owe on it. If you take this route, be sure to ask the lender to waive the deficiency so it cannot sue you for the difference after the sale.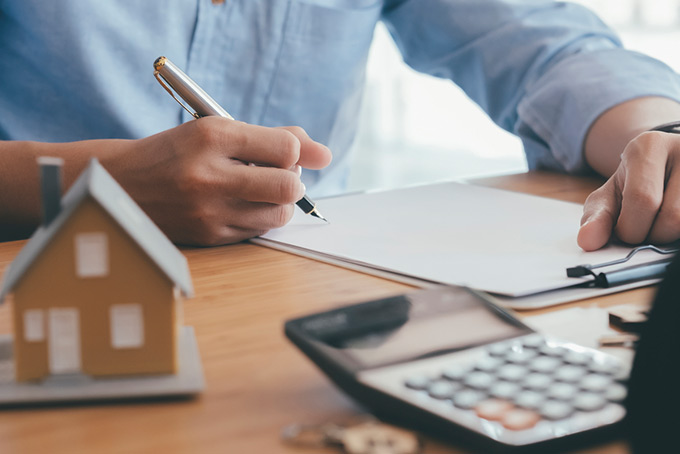 6. Deed-In-Lieu-of-Foreclosure
The absolute last option you should consider is a deed-in-lieu-of-foreclosure. With this option, you sign away your home to the lender in exchange for them not foreclosing on the home. This can help protect your credit, but you will lose any equity that you've built in the home. If you choose this option, be sure to have the lender waive any deficiencies so you're not liable for them in the future. Finally, you should ask the lender to connect you with private companies that will help you with relocation expenses.
It can be scary when you realize that you don't have enough money to pay your mortgage, and if the problem has gone on too long, it can result in some serious consequences. If out-of-control debt is at the heart of your situation, we can help. Just call one of the team members at DebtGuru.com and speak to them about learning how to control your debt, so you will never have to face this problem again.