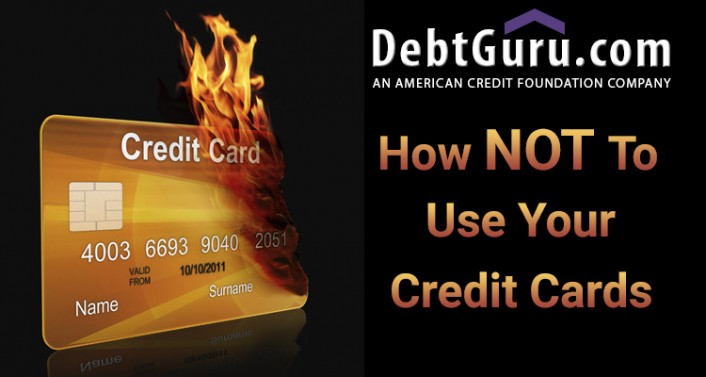 Purchases you should NEVER Make with Your Credit Card
I've written several blogs about how to use credit cards the right way – paying off your balance in full; not applying for too many accounts; not treating credit cards like an emergency fund or a source of supplementary income.
But credit card use isn't just about behavior and spending habits. It's also about knowing what you should and (perhaps more importantly) shouldn't buy with a credit card. Part of being a responsible credit user is knowing that, for a variety of reasons, some purchases simply don't belong on credit cards, period.
Here are a few things you should never do with a credit card — ever.
Get a cash advance. Most credit cards offer you the option to get a quick infusion of cash for emergencies. Cash advances are presented as a convenience to cardholders; an easy alternative to, say, borrowing money or racking up overdraft fees on your debit card. But while a credit card cash advance may seem convenient, the fees and interest rates associated with them are anything but: Credit card companies typically charge a fee for taking out a cash advance (it's usually a percent of the amount you borrow), and, on top of that, they tend to charge higher interest rates on cash advances.
Finance big life events. Weddings, vacations, the bill for a 60th anniversary party for your grandparents – none of these things belong on a credit card. It's much, much easier to overspend on fun or important events when you're not paying with cash. And once the event is over, it's over – and you're left with a pile of high-interest credit card debt. These kinds of events are supposed to be about making memories – not racking up credit card debt.
Abuse balance transfers. I've said it before: there's nothing inherently wrong with using a balance transfer to help pay off high-interest credit card debt. The break you get on introductory interest rates can make it well worth the effort. But when you find yourself in a never-ending loop of balance transfers – or if you end up using your new balance transfer accounts to make more purchases and rack up more debt — it's time to admit that you might have a problem using credit cards responsibly.
Pay for medical expenses. Instead of paying with plastic, ask your doctor or hospital to set up an installment plan that allows you to pay the bill over time – at a much lower interest rate than you'd get with a credit card.
Pay your tuition. You can pay college tuition with your credit card – but that doesn't mean you should. College is expensive, but there are lots of options available to cash-strapped students, including financial aid (interest rates for student loans much better than interest rates for credit cards), grants, scholarships, and work-study programs.
Pay your taxes. Again, you can pay this expense with a credit card — but you shouldn't. The IRS offers installment plans that let you pay your income taxes over time, at a much lower interest rate than you'd get from your credit card company. For more information and a list of qualifications for an IRS installment plan, visit the IRS' installment plan page.
Buy things from untrustworthy vendors or websites. Part of responsible credit card use is making sure that your information doesn't fall into the wrong hands. You can reduce your risk of becoming a victim of identity theft or credit card fraud by taking a few basic precautions: Use cash at bars or restaurants or anywhere else where a lot of people might have the opportunity to write down your credit card info; check card readers for skimming devices – especially in high-traffic areas; and avoid using your credit cards on unsecured websites (you can tell that a website is unsecured if the URL begins with "http" instead of "https" – that extra "s" on the end stands for "secure."
For more ways to prevent credit card fraud, check out this blog post.
If you stay away from these types of purchases and transactions, you'll be one step ahead when it comes to building and maintaining good credit and avoiding the trap of long-term, high-interest credit card debt.
And remember: if you're struggling with credit card debt, or if you're looking for help and advice about building or rebuilding your credit, you can always reach out to Debt Guru. Contact the Debt Guru team today for a free debt consultation.